Amazon Associate Account
After purchasing your Easy Store, you can start receiving affiliate commissions from as soon as you sign up for a free Amazon Associates Account. Below you can find information provided by Amazon on how you can sign up for Amazon's Associate program to start earning profits with your Amazon easy store builder Website.
The Information below provided by Amazon.com. To sign up for an Amazon Associate Account, you may visit: www.Amazon.com.
About the Amazon Associate Program
With Amazon's leadership status in Internet e-commerce, Amazon Associates have many ways to make money: not only will you earn money on the sale of books, music, and DVDs, but also on toys, electronics, kitchen, apparel, jewelry, and more.
The Amazon.com Associates program differentiates itself from other affiliate programs by offering millions of products to choose from, industry leading conversion rates and competitive referral fee rates that produce more money for our Associates.
Amazon's compensation philosophy is simple: reward Associates for their contributions to our business in unit volume and in growth. Amazon is a fast growing business and we want our Associates to grow with us.
What is an Amazon Associates Program?
The Amazon Associates program was the first online affiliate program of its kind when it launched in 1996. Today, it is among the largest and most successful online affiliate program, with over 1,000,000 members world-wide. If you are a Web site owner, Amazon seller, or Web developer, you can start earning money today and earn up to 8.5% in referral fees.
Now you can drive your affiliate program with Amazon easy store builder's Affiliate storebuilder! Amazon Easy is a simple to use storefront that can be created in minutes, offering thousands of products.
Associates drive internet traffic to Amazon.com through specially formatted links that allow us to track sales and other activity.
Associates earn up to 8.5% in referral fees on all qualifying revenue made through their links.
We send quarterly payment to Associates.
Once you join the program, you will have access to Associates Central, Amazon's extranet exclusive to their Associates. This is the place where you will build your links, view your traffic and earnings reports, and read about the latest news and opportunities available to you through the program.
Participation is Easy and Free
Create & post your links to Amazon.com using our Build Links tool in Associates Central.
Begin tracking your traffic and earnings reports online. Reports are updated daily.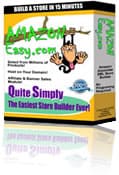 Easy Store Features
No revenue share required
No Ongoing Licensing Requirements
Change Your Site Site Anytime, Live
Host On Your Own Domain or Hosting Account
Advertising Management Program
Affiliate Program Module

Built-in shopping cart allows to add to cart some products and leave your web site only when ready to checkout at Amazon.com

Product and category names in page titles

Easy-to-modify templates

Page management with WYSIWYG HTML editor to simplify custom store content

XML over HTTP, no SOAP interaction overheads

Fast XML parsing engine

Page Cache management for fast speeds and expanded dynamic site value

More about the Easy Store features

Compare the Easy Store
Buy it Now!