Amazon Easy website Builder

Quite simply, the easiest affiliate website builder ever. Build your online site in minutes, with no coding or web development knowledge. Just click and add text, it's that easy!

Amazon easy is the best choice for creating professional looking website without requiring knowledge of web development. Add it to your existing website or use it as a standalone to start earning profits! It offers loads of products ranging from books, electronics video games, tools, and much more! A customer will be able to search your products, browse them, and even view top selling products. Look at our screen shots and you'll be amazed at how easy it is to get started. Start your own store front now!
Easy to build
Once you sign up you will become the administrator of your store. You can personalize your very own store front. Just add text, add a banner, select your categories and your done. However, if you would like to further customize your store there are many additional options you can have fun with.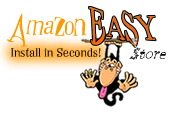 Personalize your store:
Add banners/logos
Choose your store colors
Store front font/color
Footer color
Select from a variety of product categories
Secure your store
Manage your affiliates
Manage content
Manage cache
and much more…

Build a storefront for any style website
Customers can search for specific products, categories, or best selling products. We guarantee you'll find a product you search for on Amazon Easy's storefront.
Select Product Categories
Books
Magazines
Music
DVD's
Video
Toys & Games
Baby
Computers
Electronics
Software
Tool & Hardware
Garden

and many more!



Manage your Affiliates
With Amazon Easy's administration section, you can manage multiple affiliates to help your website achieve recognition and increased traffic.
You can change the content on your affiliate page easily with the affiliate content management option.
So you don't have to send out multiple emails, you can create an email template which automatically emails a newly registered affiliate with their name and login information.
View the monthly report of the any affiliate and make monthly payments through the payment link that is available.
View the number of referrals and clicks
With the report option, you can view previous commissions and current commission reports

Earn Money while working your fulltime job
Amazon Easy offers a few ways to make money. You can advertise other websites banners on your storefront. Just as you would pay to have your site recognized, so will other websites. You can easily manage banners in the administration menu. Another way you can earn a profit is by referring customers to your products on your Amazon Easy store. For every product sold you earn a commission!
The store owner may set advertiser fees for the three different types of banners and rates for various advertising terms.
Advertiser banners are available in three categories:
468 * 60 Banner

120 * 120 Block Ads
120 * 240 Tower Ads

Learn more!