Screen Shots
Easy to build, easy to set-up, easy to manage – it's The Easy Store!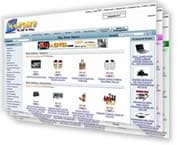 The Easy Store is the best choice for creating professional looking website without requiring knowledge of web development. Add it to your existing website or use it as a standalone to start earning profits! It offers loads of products ranging from books, electronics video games, tools, and much more! A customer will be able to search your products, browse them, and even view top selling products. Look at our screen shots and you'll be amazed at how easy it is to get started. Start your own store front now!

New Easy Store Button Selection
The Easy Store has introduced many new innovative upgrades! The latest upgrade option is a new button selection! The new button upgrades are FREE and ready for you to self-install. For professional installation by an Easy Store representative, please contact our customer service department (this option constitutes a small fee).
Gel Buttons
For your personal preference the new gel buttons come in ten different color schemes. Our new design is sophisticated yet playfull, which makes it fit for all preferences.
Scroll Over Circles to View Color
Soft Palette

Below is another new line of buttons. These buttons are using our new soft color palette, which consist of ten different colors. The new template also is used to give off a clean professional look and feel.