Amazon easy store builder for Designers
Designing your own store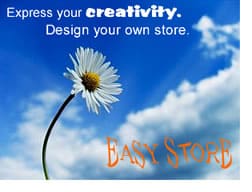 Amazon easy store builder makes it easy to integrate your own designs and themes to your store. Once you have installed your storebuilder software, you can begin adding images, customizing your navigation, and more. Amazon easy store builder provides several templates that can be customized.
With Amazon easy store builder experience is not an issue. Amazon easy store builder brings you simple to use tools that help you get your store up and running with thousands of products. If you would like to further customize your store you can add your own images and navigation. If you would like to create an html rich page, you may use the WYSIWYG editor or paste the html code into the editor. See below for some examples of how you can customize your storefront.


| | |
| --- | --- |
| | Easily design and upload your website's banner in the admin panel of The Easy Store. |
| | Add your own graphics or buttons on the page in a matter of seconds! |
| | The Easy Store is the easiest way to customize your own website with no html experience necessary. |
Create your own banner and upload it in seconds!

What type of store can I create with Amazon Easy Store builder software?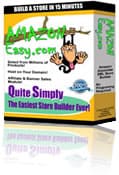 Easy Store Features
No revenue share required
No Ongoing Licensing Requirements
Change Your Site Site Anytime, Live
Host On Your Own Domain or Hosting Account
Advertising Management Program
Affiliate Program Module

Built-in shopping cart allows to add to cart some products and leave your web site only when ready to checkout at Amazon.com

Product and category names in page titles

Easy-to-modify templates

Page management with WYSIWYG HTML editor to simplify custom store content

XML over HTTP, no SOAP interaction overheads

Fast XML parsing engine

Page Cache management for fast speeds and expanded dynamic site value

More about the Easy Store features

Compare the Easy Store
Buy it Now!

Choose an existing design templates, create your own, design your images, navigation, buttons and more! If your looking for a professional store design that's easy to customize, it's the Easy Store builder!



If you're a beginner, Amazon easy store builder is made for you. No matter what your computer experience is! Simple to install, customize, choose your own products, and simple to operate. You'll be amazed at how easy it is!