Start an Online Business!
Open an Amazon Affiliate Store with Millions of Products... Amazon Associate Easy Store Builder is the answer!
Why not be a part of the fastest growing business on the Internet? The Amazon affiliate network is comprised of over 1 million affiliates worldwide. Owning an online business just couldn't be easier! After uploading your Easy Store software, you can customize your new store front in under 15 minutes, with millions of Amazon products.
You select the categories and products you will sell by simply checking a box! Compare the Easy Store features and you'll agree, there is no better choice or way to make money as an online associate store owner.
Just imagine, start your own online Amazon associate business, with no inventory, no shipping and commisions of up to 10% on every sale!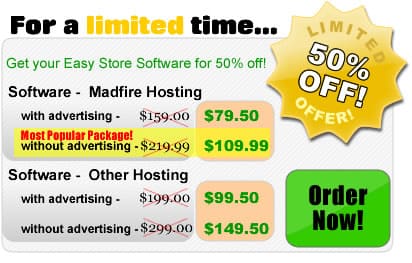 Own an Amazon Associate Store
An Amazon Associate store, is your complete online business storefront that offers you the ability to sell all types of Amazon products by simply checking the product category or products. When a visitor purchases items from your online store, the purchase is made on the Amazon network, with you earning a commission on every product sold! Your new Amazon Associate storefront takes just a few minutes to set up, needing no programing, no HTML experience, and you can customize your new online business store to meet your individual needs!

Amazon Associate program.
Add Amazon XML Feed Products to any website
With our Amazon Associate Store Builder script you can add millions of Amazon products to ANY existing website with a few clicks or create brand new online estore in a few minutes! In fact adding the Amazon Easy store on a back page to your existing site will increase your traffic greatly. You decide to add your store with an existing site or a standalone site. We feel the Amazon Easy store builder is simply the easiest and most flexible Amazon affiliates solution and store ever created... With our ASIN product locator tool, you can find an item you would like to feature in seconds!

Amazon ASIN Lookup Tool.

No website experience needed!
Starting an online business couldn't be easier! Owning and operating your new Amazon Associate online business is as simple, requiring no progarming at all. You will become a store owner in seconds. Whether your a beginner or an experienced web developer, the Easy Store builder will be simple to work with.

Our Amazon XML products feed storefront offers products other store builders don't. Amazon products can be found by customers from your own website and you can get maximum potential from purchasing of matching to your site content products from apparel, books, music, video, DVD, toys, games, electronics, computers, kitchen, lawn and patio and more. Amazon easy store builder is the leading amazon affiliate store builder which offers hundreds Amazon product categories!

Just add desired product categories, content, update templates with preferred design, and enter your Amazon Associates ID and you can start to earn cash.
FREE Installation!
Don't want to install your store yourself? Not a problem! We offer free representitive installation, and if you purchase The Easy Store with Madfire Hosting, you'll get a huge discount. Your store will also be automatically set up!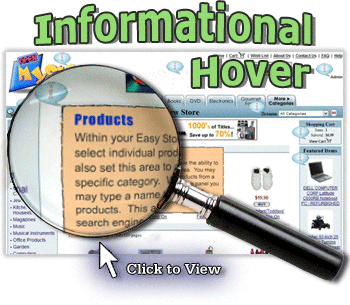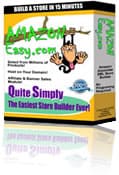 Easy Store Features
No revenue share required
No Ongoing Licensing Requirements
Change Your Site Site Anytime, Live
Host On Your Own Domain or Hosting Account
Advertising Management Program
Affiliate Program Module

Built-in shopping cart allows to add to cart some products and leave your web site only when ready to checkout at Amazon.com

Product and category names in page titles

Easy-to-modify templates

Page management with WYSIWYG HTML editor to simplify custom store content

XML over HTTP, no SOAP interaction overheads

Fast XML parsing engine

Page Cache management for fast speeds and expanded dynamic site value

More about the Easy Store features

Compare the Easy Store
Buy it Now!

Choose an existing design templates, create your own, design your images, navigation, buttons and more! If your looking for a professional store design that's easy to customize, it's the Easy Store builder!



If you're a beginner, Amazon easy store builder is made for you. No matter what your computer experience is! Simple to install, customize, choose your own products, and simple to operate. You'll be amazed at how easy it is!